Soeharto was the second President of Indonesia, having held the office for 32 years from 1967 following Sukarno's removal until his resignation in 1998.

Soeharto was born in a small village near Yogyakarta in 8 June 1921, during the Dutch colonial era. His Javanese peasant parents divorced not long after his birth, and he was passed between foster parents for much of his childhood. During the Japanese occupation of Indonesia, Suharto served in Japanese-organised Indonesian security forces.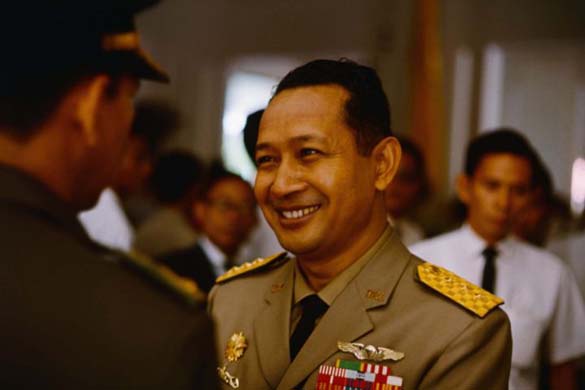 Indonesia's independence struggle saw him joining the newly formed Indonesian army. Soeharto rose to the rank of Major General following Indonesian independence. An attempted coup on 30 September 1965 was countered by Soeharto-led troops and was blamed on the Indonesian Communist Party.The army subsequently led an anti-communist purge, and Suharto wrested power from Indonesia's founding president, Sukarno.

He was appointed acting president in 1967 and President the following year. Support for Soeharto's presidency eroded following the 1997–98 Asian financial crisis. He was forced to resign from the presidency in May 1998 and he died in 2008.

He was known as the smiling general. This is because at every moment, he is always smiling to the public. Nobody knows for sure why he was always smiling to the public, which surely it is his trademark.